Legal / Privacy
Coffs Harbour, New South Wales
Copyright 2011-2018 Bentleigh Motor Inn, ABN 17 816 468 135. All rights reserved worldwide.
Bentleigh Motor Inn makes no representations about the suitability of this information for any purpose. It is provided "as is" without express or implied warranties. The information contained in this web site is subject to change without notice.
Permission to use documents delivered from this World Wide Web server and related graphics is hereby granted providing Bentleigh Motor Inn is noted as the source of the information.
Privacy Statement for bentleighmotorinn.com.au
Bentleigh Motor Inn has created this privacy statement in order to demonstrate our firm commitment to privacy.
The following discloses our information gathering and dissemination practices for this web site: www.bentleighmotorinn.com.au.
This site does not collect user details. We use your email address to confirm your booking only and it is not disclosed to any third party.
Online Bookings are made on the booking system HiSite.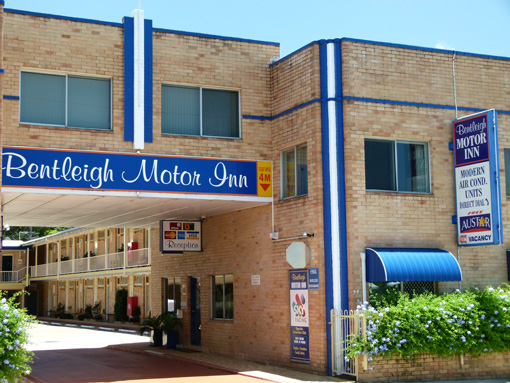 The Bentleigh Motor Inn is situated directly opposite the Coffs Harbour Ex-Services and Bowling club with restaurants, cafes, shops, nightclubs and hotels adjacent.
Coffs Harbour is an attractive seaside city on the major east coast Pacific Highway approximately halfway between Sydney and Brisbane. (Approx 6 hour drive in either direction).
The Bentleigh Motor Inn Coffs Harbour offers a wide choice of motel accommodation styles which include;
Double Rooms
Twin Rooms
Quad Rooms
Budget Family Unit
The conference room is located on the ground floor and is air conditioned. The conference room is an L shaped room with a maximum seating capacity of 80 people. Free wireless broadband is also available.